Attraction is a wonderful phenomenon that all of us experience. There's always that special person in class or at work we'd like to know better. But there is a huge difference in the way the two sexes display interest in one another. Most girls find themselves in a rut when thinking about whether a guy likes them. It's the same with the guys! They think about too many questions, having sleepless nights and not being able to figure it out in order to make the first move. The longer time you spend thinking, the cloudier your judgment gets. This is a list that can immensely help all the girls out there to decipher a guys moves. Here are 12 signs that reveal that the guy likes you:
12. Works on His Appearance
A better, more elegant appearance adds to a persons charm. A guy who is interested in you is always conscious about his appearance when he's around you. Do you feel like he's always dressed up when you're going to meet, in a group or otherwise? This shows that he is making an effort to stand out from the crowd and he's trying to please you. If you do feel like that's the case, you could even make the first move!
11. Is Nervous Around You
Most people are nervous of crowds and public speaking but guys can also be a tad nervous when they're talking to a girl they're into. Its hard for most guys to even go up to their crush and make a proper conversation. If a guy is making an effort to talk to you but is hesitant and blushes too much during conversation, he likes you! When someone talks to their crush, they can get all fidgety and conscious about their body so look over his shyness and get to know him better!
10. Surprises You
Guys don't often go out of their way to spend time planning a surprise but when they do, its always for someone special. It could be a box of chocolate, flowers or a birthday celebration, unexpected gifts and treats are definitely signs that a guy likes you.
9. He Smiles
A smile is the best curve on the human body. It speaks volumes about a person's feelings. If a guy smiles too often while talking to you or when exchanging glances, he genuinely likes you. This could be because you make him happy and he really wants to hold longer eye contact and make conversation. So go ahead and beam it back if you're interested.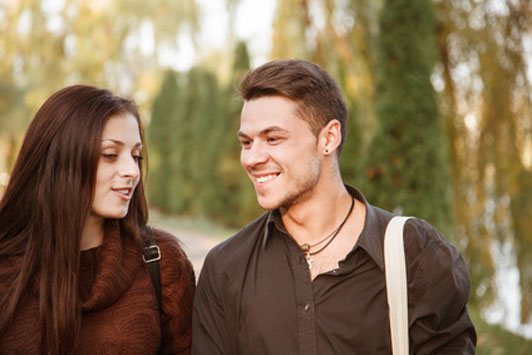 8. Has A Special Voice
The way a guy talks to you says volumes about his interest in you. If the guy talks in a different way when he's around you and lowers his voice when talking to you, he probably likes you. Moreover, if his voice seems just a little bit huskier, he could be doing it on purpose just to flatter you!
7. Gives You Time
If a guy likes you, he'll always try to be available for you. If you want him to do you a favor or ask him to help out with your project, he'll genuinely be interested because that way he gets to spend time with you. Moreover, if a guy approaches you more often when you're alone rather than when you're with your friends, it goes to show that he's interested in being more than just friends. So go on, cut him some slack and spend some alone time with him, you'll only get to know him better.
6. Is Protective of You
Guys always have a tendency to protect a girl they like, its been hardwired into their brains. Be it a small or a big decision that could have an impact on your life, they'll always be there for you. A guy who is into you will hold your hand while crossing the road, get jealous when you talk to other guys and advise you against risky decisions. These are a guy's way of showing protectiveness and if he's protective, he likes you!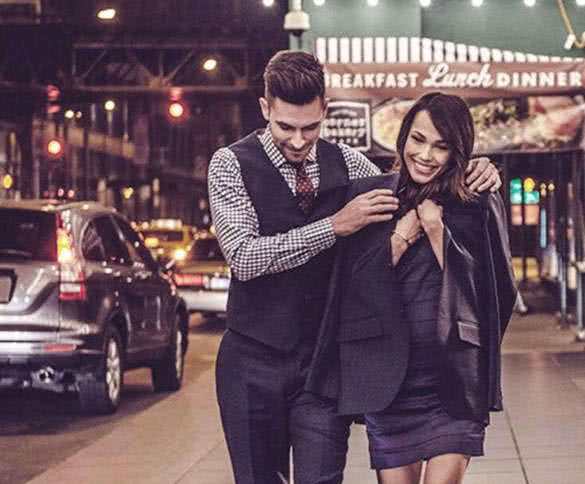 5. Gives Unparalleled Attention
Though men are considered to have a short attention span, a guy who likes you will make a conscious effort to stay focused on what you do or say. Whenever the two of you have a conversation, he will always listen closely and try to have a real conversation, with genuine inputs from his side. Moreover, a guy who likes you is very likely to remember the little things you mentioned and brings them up later on. This is a sign that he is truly mesmerized by you and he deserves a chance.
4. Gets Emotional
The world considers men to be impassive creatures who are expected to behave in a certain 'manly' way that makes them seem cold. Hence, its hard for men to show emotions because it makes them feel vulnerable. So if a guy isn't afraid to get ecstatic or teary eyed in front of you, he likes you a lot! If a guy opens up to you about his personal life, he genuinely likes you. Moreover, if he starts sharing his life problems and secrets with you, he certainly wants you to be a part of his life!
3. The Eyes Have It
The popular saying goes, "When a girl is in love, you can see it in her smile and when a guy is in love, you can see it in his eyes". Eye contact may be the single most important factor to determine whether a guy likes you. A guy who likes you will want to look at you all the time. So if you frequently catch him peering and he quickly looks down or away, he is very much interested!
2. The Language of Touch
Physical contact is important to ignite the flame of attraction. The subtle touches and closeness can make a guy interested in you. If he walks beside you rather than ahead of you, stays close and grazes your arm ever so slightly and sits closer than normal, he likes you and is always trying to test your limits and dropping hints. So go ahead and reciprocate the positive vibes if you're interested.
1. Cares For You
Caring for someone is a basic human act that shows affection towards the person. If a guy shows genuine affection towards you, he might as well like you a lot! There are a lot of ways a guy can show affection and care; he could help you out when you're in a rut, he could try to uplift your mood when you're feeling low, motivate you in your new venture or even show concern about little things going on in your life and family. If he's doing any of this, he wants to be close and is certainly interested in you.
There aren't any sure signs if a guy likes you, the signs are different for different people. If you feel like the guy does tick most of the above points, you could even consider to make the first move!
Related posts:
More from People
---
Source: Google Images Evolution got popularized through the works of Charles Darwin and Gregor Mendel. Charles Darwin theory states that all …