Who says women lag behind men when we can proudly shout Malala Yousafzai every year? Malala Yousafzai was a Pakistani activist for female education. The youngest Nobel Peace Prize Winner, Malala Yousafzai was just 16 years old when she published her first book "I am Malala" and gave speech at the United Nations. To enter the gates of the United Nations is an achievement in itself but Malala confidently delivered a speech in front of everyone presented in the world organization.
For Malala, girls should be literate enough to live an independent life. So, as a Pakistani education advocate, she started raising her voice for girls education. She has now become the most influential activist.
Here are ten essential facts about her life which will surely leave you amazed.
1. Attempted assassination by Taliban militants
Retarded minds often attack a kind soul. When Malala was just 15 years old, she was attacked by the Taliban. Taliban spokesperson, Sirajuddin Ahmad said that there was no other option but to kill Malala. She was shot on 9th October 2012 when she was coming back home from her school. A militant boarded her school bus and shouted with her name and found her. Another Taliban spokesperson said that she had become a symbol of western culture in the area; she was openly propagating it. He also said that if she survives again, the Taliban will kill her. He gave a warning by saying "Let this be a lesson." She was badly injured. Brave hearts live a long life, and that's why she came out unscathed. She continued her fight for those people who were against girl education.
2.  Malala was Cold fear lady
""I am Afraid" was her first blog post for the BBC. In the post, she wrote, "I had a terrible dream yesterday with military helicopters and the Taliban." Because she was in school, she saw that the students of her class had dropped from 27 to only 11. That is why she was horrified when she heard a man saying on his phone "I will kill you." Malala thought that the man is threatening her (after all, she was just a girl of 15 years old at that time) but in reality, the man was speaking to someone else on the cell phone.
3. Malala was a fearless and strong character
Malala has continuously been a brave and strong lady. In 2008, BBC was in search of a school going girl to blog about her firsthand experience of life under the extremist group because of the Taliban's takeover of the Swat Valley. BBC found a girl but the girl later on denied due to safety issues. Then, Malala Yousafzai came into the forefront and volunteered to write the blogs. Malala wrote under the pen name Gul Makai. Gul Makai was a heroine from a Pashtun folktale, and the name means "cornflower."
4. Malala strong relationship with her father
A daughter shares a strong relationship with her father. Malala and her father are perfect examples. Her father Ziauddin Yousafzai has always supported Malala in every social work that she does for the welfare of the people. She spoke with him about what she felt about Pashtun culture and her experiences. Malala always questioned her father about the rights of women and the way they are treated and not respected in the society. She used to discuss with him about the common practice of wife beating, kidnapping, etc. He never questioned Malala and encouraged and motivated her to do the best.
5. Certain rules followed by Malala
When she got settled in Britain and was asked about her new life in the country, she said that she could never be like her typical English counterparts. She is a girl who listens to her father and his wishes. Her father was undoubtedly in support of what Malala was doing, but he was still a part of "Pashtun culture." So, there were some rules that she always used to follow which includes that she could not use a cell phone, could not have a boyfriend and was ever articulated to wear a headscarf in public places.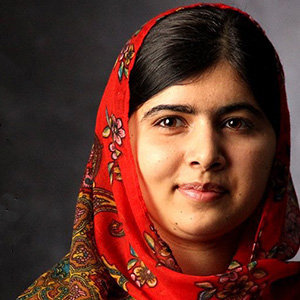 6. Youngest Recipient of Nobel Peace Prize Award
Winning Nobel Peace Prize is one of the most significant achievements for anyone, but that too in such a young age is just commendable! Malala won this award when she was only 17 years old. She shared the prominent honor with Indian children's rights advocate Kailash Satyarthi "for their struggle against the suppression of children and young people and the right of all children to education." While receiving the award in Oslo, Malala said that she is the first youngest woman to receive such an award "who still fights with her younger brothers."
7.  Yousafzai was an inspiration to her mother
We have always heard the mother being the inspiration of her children, but here, it is the opposite. Her mother, Tor Pekai Yousafzai expects growing her prospects in England, so she started attending school there. Her mother can now read and write proper English. According to Malala's autobiography, her mother finished school at the age of six. Later on, Malala, a highly intelligent and talented girl became the inspiration to her mother which helped his mother to complete education.
8. About her Favorite books and shows
Books have always been her best friends. She has read many novels. When she was just 11 years old and was stressed due to Taliban activities and threat calls, Malala read the book "A Brief History of Time" written by Stephen Hawking. Her favorite book is "The Alchemist" by Paulo Coelho. She also likes reading "Twilight" saga by Stephenie Meyer. During her pre-adolescence age, she used to love a reality show which used to come on Television, "My Dream Boy Will Come to Marry Me." Malala has herself written many books like "I am Malala: my story of standing up for girls' rights," "We are Displaced," "Malala's Magic Pencil" etc.
 9. School of Life
Malala at a very early age used to accompany her father to the Khushal School which was named after a Pashtun warrior poet. Therefore, she started learning at a very young age, or we can say when she was just a toddler. Her father has always supported her every right move. He has ever stayed with him and stood for the girl's education.
10. Famous Personality on Social Media
Malala's works paid her well and made her a renowned personality all over the social media. At the end of 2017, she went to Oxford University, Britain. Her first tweet from the university received more than 220,000 likes within a few hours. It shows that how famous she has become because of her selfless welfare works for girls and women.

Malala is a girl with big dreams and a big heart. Now, Malala is a successful writer, speaker, and activist and is born with a highly intellectual mind. She has achieved a lot at such an early age. She is an inspiration for many people.
You might also like
---
More from Person
---
Source: Google Images Bo Xilai is a former Chinese politician. From 2004 to 2017 as a Minister of Commerce, later from …